About SWISS KRONO TEX GmbH & CO. KG
Core competencies of the German site of SWISS KRONO Group are the production of high-quality laminate flooring under the KRONOTEX brand and high-performance OSB boards under the SWISS KRONO brand.
Three OSB innovations particularly distinguish the German plant: the large-format SWISS KRONO LONGBOARD OSB, the solid timber construction system SWISS KRONO MAGNUMBOARD® OSB and the flame-retardant SWISS KRONO OSB/SF-B (B-s2, d0).
The advantages of laminate flooring combining decor-synchronous embossing, decor variety, resilience and easy-care handling. The wood products of the highest quality - "Made in Germany" - are exported to over 90 countries around the world.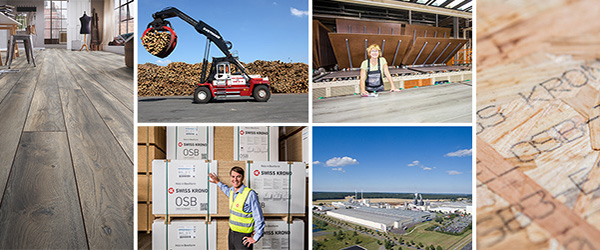 What we are looking for:
We are looking for the next generation of resins and binders to produce wood-based materials such as particleboard, and wood fiberboard.

SWISSKRONO has successfully entered the furniture market with its first bio-chipboard (BE.YOUND). This wood-based material consists mainly of wood and bio-adhesives.

Today, 97% of wood-based materials in Europe consist of up to 90% - 95% wood. The remainder are binders made from fossil raw materials that cannot be produced sustainably until now. We are looking for new binders of the future that are both free of harmful ingredients and can be produced from renewable resources. The properties of the products achieved with these binders in terms of general strength as well as water resistance should be roughly comparable to conventionally manufactured products.
What we offer:
Technological support and expertise, assuming appropriate prospects of success: Equity participation.